Creative Practice
Image: IMG_9439
Interact Theater is recognized for work that is always original, and always timely. We look at current events through the lens of humor, satire, and reflection. We explore the human condition in all its joy, sadness, challenges, and dreams. In the spirit of radical inclusion, all of our work blends artists with and without disabilities, and our company brings the full spectrum of disability labels to the stage.
Our devised theater process means that every artist in the company participates in creating new work. We begin with a theme or idea and start improvising, based in the "physical theater" teaching and philosophy of the renowned artist, Jacques Lecoq.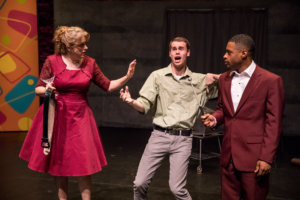 Artists work individually with professional staff artists to develop their skills, and they work as part of the ensemble to sketch out scenes, create music and stage movement, rehearse, refine, and work toward a final finished production ready for our audience.
Interact's ensemble of artists with disabilities is supported by a staff of professional theater artists – actors, movement artists, musicians, directors – who both teach and perform as colleagues. Our Ivey-award winning music-theater composer creates original work for all of our productions, which are staged in venues such as The Lab Theater and the Guthrie's Dowling Studio Theater. We collaborate with recognized professional guest artists from the community such as Kevin Kling and Shanon Custer, and all of our productions include professional costume, lighting, sound, and set design.