Join us for this family-friendly online performance!
Get ready for Interact's family-friendly Out of This World first Virtual Performance – Zoomtopia! With special guest Kevin 'Klingon' and a virtual cast of over sixty visual and performing artists and musicians!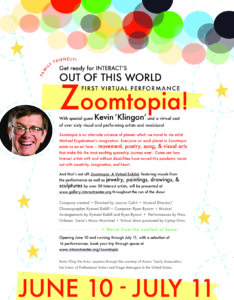 It's the year 2020 – life as we know it has been kicked to the curb, COVID has us locked down, and Virtual Reality is our new neighborhood. But heck, when has Interact ever let a bad situation go to waste?
Plucked straight from the imagination of Interact artist Michael Engebretson and 45 visual and performing artists, Zoomtopia's alternate universe hurls us past the storms of isolation, uncertainty, and technical aggravation, and into a world of miracles and wonders.
Action begins with Kevin Kling, whose one-man Greek Chorus keeps the narrative moving forward throughout. The New Orleans jazz trio of Zena Moses, Jeremy Phipps, and Eugene Harding – collaborators in our 2018 Guthrie Theater production, Hot Jazz at the Funky Butt – sets the stage for the fantasy to come.
Happy virtual images of Interactors show what things were like in the before-times, while their anthem, "Sweet Are the Uses of Adversity," foretells how creativity will help them cope with what is yet to come. Then freeze. The ensemble appears to be standing six feet apart even while in their own separate spaces, courtesy of the zoom-time wizardry of UpTop Productions.
Actors Jule and Sam, sweethearts before the isolation, mourn their separation as they sing, "My Heart Goes Boom." Everyone wants to escape, and Engebretson's vision gives them the way to go. The crew boards a spaceship bound for Zoomtopia, eager to embrace ideals of diversity among alien cultures, to do battle with planetary warming, or to become distant stars with constellations named after them. All the planets are art forms – spectacular colors on?
Planet, lyrical wisdom on the Poetry Planet, and chanteuse Josette Antomarchi's musical Love Planet filled with flowers and songs sung in French ending with the planet of Hope. A harrowing trip through a wormhole attack by masks – a musical reminder that "Sweet Are the Uses of Adversity" – and the crew returns home, eager to share stories of this mind-altering journey as Earth begins its recovery.
Even in the time of COVID, Interact can't resist the chance to work our quirk – and here is something to think about: at 20% of the U.S. population, people with disabilities are rarely believed to have the capacity to make their own choices about where and how to live, and that lack of choice heightens the sense of isolation and loneliness that is prevalent during COVID.
Add that to the fact that they are rarely recognized for their talent as innovative creators and professional artists. Interact's vision blows those misperceptions out of the water with work like Zoomtopia – not only a high quality work of art and social commentary, but also a testament to how this dedicated company of artists with disabilities has turned to creativity as a place of healing, solace and a way to stay connected in community.