Interact is pleased to present WILD GOOSE, an online exhibition exploring landscape painting through the parallel practices of two artists—Carl Clark and Jack Arthur Wood Jr.
Titled after the first line in American singer/songwriter Gram Parsons' A Song for You, WILD GOOSE traverses fuchsia landscapes and psychedelic horizons, spaces realized by the artists' dreams of wandering away from the city. Clark paints at home in Minneapolis during Interact's online studio hours, and Wood in his studio in Queens, New York.
Filling boundless skies and seas with measured, even marks, Clark takes a pragmatic approach to painting. His work is profoundly stark and flat, often with dramatic shifts in scale. Wood, who takes an experimental approach, covers the surface of each piece with a kaleidoscopic accumulation of paper scraps, muslin, and linen, sometimes adding strips of a beloved item of clothing.
The pandemic has brought into focus the ways that we inhabit space. When New York shut down last spring, Wood made paintings to escape. For Clark, the transition to working from home blurred the lines between studio hours and domestic life. The exhibition includes Morning Stone, a painting of a sunrise from 2021, which is the first piece that he made at the desk in his room.
WILD GOOSE explores the tensions between connection and space, in terms of relationships to oneself, to others, and to the land. Clark's and Wood's paintings stretch to meet each other across distances, finding common ground in that resolute sense of longing we have felt deeply during the pandemic.
The exhibition runs from March 29 – May 10, 2021, but we are excited to invite you to preview it now.
MEET THE ARTISTS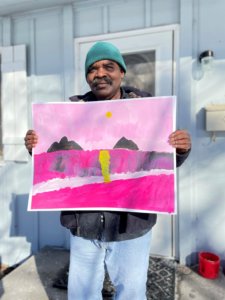 CARL CLARK has practiced at Interact since 2016. Known for beautifully stark landscapes, almost all of Clark's paintings feature a bold, wide-open sky. Some pieces reference specific images that Clark finds online and in books, while others represent imagined spaces. "Depending on what I am drawing, it could have an emotional, social, or political role apart of it," he has said.
Clark has presented work in exhibitions throughout the Twin Cities, including We Are Not Disposable (2020), Randomland at The White Page (2019), and Groundswell at Artspace Jackson Flats (2019). His work is in private collections in both the United States and abroad. When not painting, Clark enjoys taking walks around a lake near his home.
Image credit: Jeff Barnett Winsby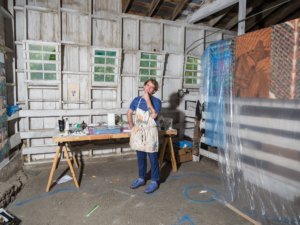 JACK ARTHUR WOOD JR. is a visual artist and educator currently based in Queens, New York. Wood's studio practice is concerned with painting, mark, object and stripe through material collage. Pre-pandemic, he worked as an educator throughout the five boroughs with organizations that provide arts education to underserved communities. Most recently, he was the conductor of the New York Botanical Garden's Holiday Train Exhibition.
Wood received a Bachelor's degree in printmaking from Guilford College in 2012 and a Master of Fine Arts degree from Texas A&M University-Corpus Christi in 2017. He has been an artist in residence at the Skowhegan School of Painting and Sculpture, a dual printmaking and education fellow at the Wassaic Project Artist Residency, a fellow at Little Bear Hill Post Digital Printmaking Residency, and a recipient of the Tiger Lily Press Working Artist Program. Wood has published writing through ÆQAI Arts Journal, Cambridge Scholars, and Perfectly Acceptable Press.