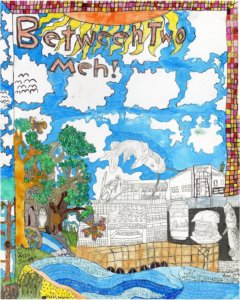 Take A Look features dynamic drawings and collages, dovetailing on a multifaceted collaboration between Interact artists and authors at Cow Tipping Press.
Over the course of a few months in late 2020, ten Interact artists met weekly online to read and discuss the poems of authors at Cow Tipping Press. The collaboration culminated in Best of Cow Tipping Vol. 3, a book published by Cow Tipping Press, as well as a series of digital audiobooks that animate each poem as it appears in the artist's work.
Titled after Cow Tipping author Violet's poem of the same name, Take A Look showcases visual art from the interdisciplinary and entirely remote collaboration. Jonas Specktor, a Studio Instructor at Interact, facilitated the weekly meetings between Interact artists as they developed their work.
"Take A Look reflects a number of themes expressed in the poems by Cow Tipping authors, including longing for freedom in the face of authority figures, mourning, daydreaming, past loves, and finding green spaces in an urban environment," says Specktor. "This collaboration yielded insights, humor, delight, connection, and allowed new relationships to form, during a time when all of us are longing for more human connection."
You can find the exhibition, which is made possible by Cow Tipping Press and the Minnesota Humanities Center, on our web store beginning March 17, 2021.
Artist & Author Panel | Neurodiverse Literature & Art
Interact and Cow Tipping Press will be Minnesota Humanities Center's guests at this interactive event. Neurodiverse Literature & Art will feature Interact artists Davida Kilgore and Virginia Townsend, as well as Cow Tipping authors Jason Larimore and Joseph Allen. The event will touch on the power of the humanities as a gateway to broader inclusion.
The first 50 participants to register will receive a free copy of Best of Cow Tipping Vol. 3, which features the literary and art works presented in Take A Look. One piece of visual art from the exhibition will also be raffled at the event.
Neurodiverse Literature & Art
March 17, 2021
6:30 – 8 p.m.
To register, please visit the link below.