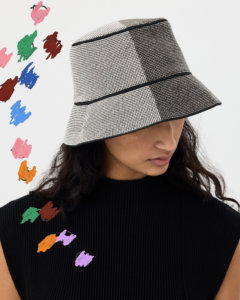 We are thrilled to announce a new collaboration between four Interact artists — Andrew Seymour, Janice Essick, Mike Harris Jr., and John Riddle — and New York City-based accessories brand KARA.
Founded by American and Chinese designer Sarah Law in 2013, KARA is an enthusiastic celebration of being many things — not fitting into a specific mold. Inspired by designer Law's personal journey, the brand highlights the multifaceted individual and recognizes that as a community, we also manifest a spectrum. Each design is a blank canvas that the wearer can project themselves upon — reflecting the attitude that you should wear the bag, the bag should not wear you.
Launching on February 23, Law is partnering with four artists from Interact for Spring 2021. The project is a continuation of the brand's ongoing series, KARA you BE you, which is a play on karaoke. Similar to how individuals select songs to sing in their own way, the series invites individuals to wear the product and express the brand values in their own way. Throughout the brand's history, Law has invited individuals from around the world to document themselves with KARA pieces in a way that best showcases their own form of expression.
For this iteration, Law has partnered with Interact artists Andrew Seymour, Janice Essick, Mike Harris Jr., and John Riddle. On the collaboration, Law says:
"I first came across Interact in 2019 on Instagram when some of the artist's work showed up in my feed. I was really struck by the spectrum of expression and diversity in the work and started looking into the different artists related to the program. KARA is about acknowledging and highlighting that each individual is made of many things and that within a community we project a diverse range of ideas, influences and beliefs. KARA also celebrates creative and unique forms of personal expression. Interact is a beautiful example of both sentiments."
The collaboration begins with work by Andrew Seymour and Janice Essick this week. You can follow along on KARA's Instagram feed at the link below.